CHAMA promises the highest level of living pleasure for those searching for a life in a family-friendly environment which offers short routes to the city and nature alike. There is a total of 62 rental apartments, provided by the building groups DA GAMA and COOK; they leave a strong impression by virtue of both their interesting floor plans and their modern expansion standard. Scheduled overview to take place in spring 2024.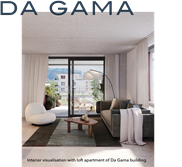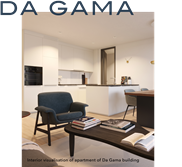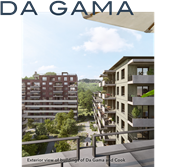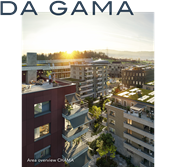 37 RENTAL APARTMENTS FOR EVERY LIFE FORM

With DA GAMA properties, you will find a stylish place you can call home; one which leaves nothing to be desired. These apartments, with anywhere between 1.5 and 6.5 rooms, will leave a strong impression by virtue of a well thought-out room layout (partially in loft style). The interior will ensure appeal, with high quality materials which are perfectly matched and a modern furnishing profile. Loft apartments with 2.5 rooms have their differences (i.e. colour and materials selection), while offering a spectacular view of the inner courtyard area (including the Lorze, as well as the surrounding mountain backdrop). One particular highlight is the shared roof terrace – a very inviting place for moments of enjoyment and cosy get-together during fine summer evenings.
FIND AN APARTMENT Inner Courtyard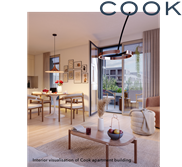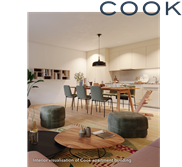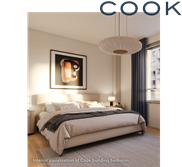 25 rental flats for intergenerational living.

Come along, and relax. The bright COOK property apartments (with 1.5 to 4.5 rooms) combine sustainable and stylish living appropriate for different lifestyles and needs. The thoughtfully designed space, and the high quality and colour-neutral materials, allow for the implementation of individual furnishing ideas – for a home which suits you perfectly.


FIND AN APARTMENT Inner Courtyard
Offer

The Apartment Navigator will aid you in the selection of your new apartment. With it you will be able to envisage the surroundings and the position of your CHAMA apartment better, and all today. By clicking on the apartment details you will directly access the interface for the application for your new CHAMA apartment.
CHAMA offers a high quality of life

Imagine being at home in one of the most beautiful locations in the Swiss Canton of Zug. A sunny location with a view of the green – and CHAMA blends into the environment perfectly. With the Lorze and public meeting areas directly at your front door, CHAMA offers its residents plenty of space to blossom.

Area Location Google Maps
360° TOUR OF THE INTERIOR AREA / DA GAMA
360° TOUR OF THE INTERIOR AREA / COOK
Downloads

All questions and answers concerning CHAMA and lease contracts can be found in the "Good to know" document. The apartments are primarily rented off plan.
The brief building description includes information on the interior extension plan of the building in question.
Please do not go to the construction site alone under any circumstances. Due to ongoing construction work, there are no visits taking place at this time.
APPLY NOW

Discover your dream apartment in the Apartment Navigator and make an application directly, via our online application tool.
Scan of ID document or pass (including in the case of Swiss citizens)
A CreditTrust certificate or debt enforcement register information which offers a review over the past two years (no more than two months old)
Residence permit
Schufa information (if you have lived in Germany over the past two years)
Wage statement
Information provided by employers and landlords

Such information shall be provided on a voluntary basis; it shall of course be treated as confidential. It is necessary that all applicants provide all appropriate information and documents. Please note that only complete applications, including a submitted proof of ID (scan) and a valid excerpt from a debt collection register or a CreditTrust certificate may be checked and considered in connection with binding reservations.
We hope that you will be highly satisfied with the new apartment that you chose.