Sustainability
HIAG's aspiration is to be one of the pioneers in the industry in the area of sustainability. Its activities are intended to achieve positive ecological, economic and social effects along the entire value chain.
Key sustainability figures
The emission intensity of the yielding portfolio was 6.1 kg of CO₂e per m² of energy reference area (ERA) in 2022.
HIAG prefers to use public transport for business trips. In 2022, 83% of kilometres travelled were made by public transport.
HIAG and HIAG Solar jointly produced 8.1 GWh of renewable energy from hydroelectric and solar sources in 2022. That is equivalent to the annual consumption of 2300 households.
The HIAG portfolio includes 23 hectares of valuable biodiversity areas. That is equivalent to the surface area of 32 football fields.
HIAG invests in team development. In 2022, HIAG employees validated approximately 940 training hours of continuing education.
HIAG plans for the long term. In 2022, the share of certified properties or those with an official building energy certificate in the yielding portfolio was 14%. 
Strategy

Sustainability is a fundamental part of HIAG's business model and is at the heart of its business activities. HIAG is convinced that continuous progress in its own sustainability performance helps to identify entrepreneurial opportunities and risks at an early stage and to create excellent living spaces. In this way, HIAG generates social added value and entrepreneurial success. The sustainability strategy is embedded in the Corporate Strategy 2025. This has been approved by the Board of Directors and is reviewed annually for optimisation.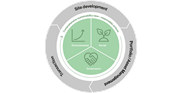 Sustainability goals 

HIAG sets itself ambitious and measurable goals. Information on the current degree of target achievement is provided in the sustainability report. Further goals are reviewed annually. Six goals are currently being pursued: 
Six-fold increase in the plant capacity of HIAG Solar, the joint venture with our technology partner aventron, from 1 MWp in 2021 to 6 MWp in 2024

Reduction of greenhouse gas emissions in the yielding portfolio:

The Scope 1 emissions of the yielding portfolio are reduced by 85% per m2ERA by 2035, based on the 2021 values.

The Scope 1 and 2 emissions of the yielding portfolio are reduced by 65% per m2ERA by 2035, based on the 2021 values.

By 2050, the Scope 1 and 2 emissions of the existing portfolio are net 0 kg/m2ERA.

Conduct periodic, quantitative employee satisfaction surveys from 2023 onwards.

Conduct periodic, quantitative customer satisfaction surveys from 2023 onwards.

Development of a concept for sustainable property management by 2024.

Voluntary convergence with the recommendations of the Task Force on Climate-Related Financial Disclosures (TCFD) by 2024.
Sustainability in action 
Sustainability is put into practice holistically at HIAG and understood as a driver of innovation. With numerous projects, HIAG creates environmental, economic and social added value every day.
Selected examples:
Sustainability policy and codes of conduct 

In order to live up to its responsibility as an ethically honest company, HIAG requires its employees and contracted business partners to adhere to its codes of conduct. They describe the expected business behaviour and define standards that must be respected and supported. Adherence to ethical standards and strict compliance with all laws relevant to the company form the basis of our activities. 
Sustainability policy for HIAG
Code of conduct for HIAG employees 
Code of conduct for HIAG's business partners and their subcontractors
Ratings

HIAG's sustainability work is evaluated by various organisations. The results reflect the scope of the sustainability work performed and indicate additional HIAG strives to continuously improve the ratings it achieves. In doing so, HIAG focuses primarily on the Swiss sustainability rating from Inrate as well as the ratings of the Global Real Estate Sustainability Benchmark (GRESB). An expansion of the list of ratings relevant to HIAG and its stakeholders is reviewed annually.
Inrate Sustainability Assessment 2022
Rating: B (scale A+ to D-)
Inrate is an independent Swiss sustainability rating agency. With the Sustainability Assessment, Inrate generates an industry-specific benchmark. Based on the above-average result in 2022 (rating: B), HIAG qualifies for the SPI ESG Index of the SIX for the first time. The results from the Inrate Sustainability Assessment are decisive for inclusion in the index.
GRESB Global Real Estate Sustainability Benchmark
Grace Period 2022
GRESB is the leading sustainability rating for the real estate industry. In 2022, HIAG participated in the GRESB Assessments Real Estate (Standing Investments and Development) for the first time. 
Sustainalytics
In May 2023, HIAG Immobilien Holding AG received an ESG Risk Rating of 15.6 and was assessed by Sustainalytics to be at low risk of experiencing material financial impacts from ESG factors